8 way DMX to Analogue DIN Rail
Product number:
05901 -
£175.00
---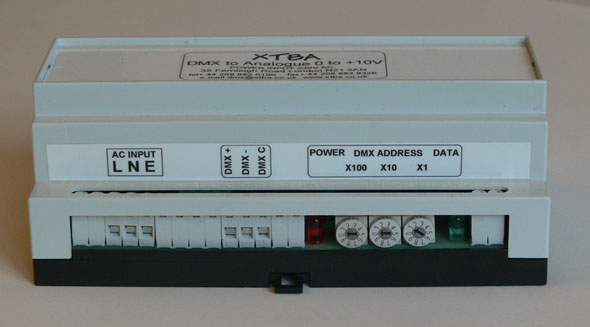 *Now upgraded to include fully enabled RDM and with added features such as emergency mode and grouping.
A mains powered DIN rail mounted 8 channel 0 to +10V decoder. Channels can be set into two groups of four or individual channels set as non dims. Emergency mode allows all outputs to fade to a predetermined level in the event of DMX loss.
Local output test mode from the address switches. RDM enabled.
Output 0 to +10V DC. Individual outputs can also be set to act as non dims.
9 DIN Module, Width = 157mm, power & data leds, DMX address switches
See also our PCB version of this product - http://xtba.co.uk/products/dmx8-decoder-pcb
Note: Revised manual now updated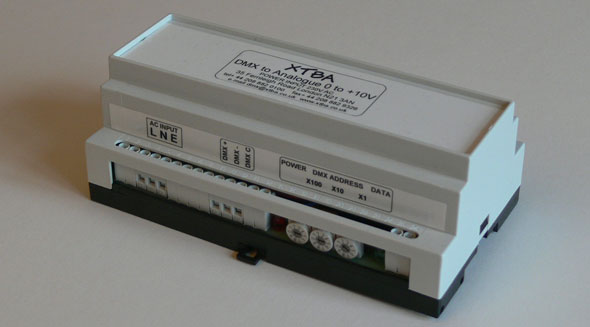 Voltage
120v AC (90v - 140v)
240v AC (190v - 250v)
Additional info:
120V Operation is Internally Selectable by PCB links
Packaging & Dimensions
Length: 155

mm
Depth: 1

mm
Height: 1

mm
Weight: 0.3

Kg (Approx)

XTBA declares that this equipment meets the requirements of the EMC Directive 89/366/EEC.