SMART SWITCH 8:4
Product number:
07202 -
£675.00
---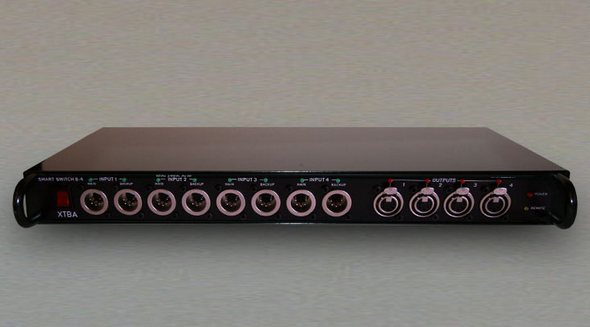 XTBA's Smart Switch 8:4 allows up to four universes of DMX to have an on-line back up.
In the event of a data failure on any of the active main inputs the Smart Switch 8:4 will check the available backup inputs. If all are available the unit will switch all inputs to back up. If a back up is not available on an active channel then only the input that has failed will be switched to backup.
The unit also has a remote facility to allow the main/backups to be switched manually. This allows multi universe DMX systems to have full on line back up.
Works with
Voltage
120v AC (90v - 140v)
240v AC (190v - 250v)
Additional info:
120V Operation is Internally Selectable
Packaging & Dimensions
Length: 430

mm
Depth: 270

mm
Height: 44

mm
Weight: 4

Kg (Approx)

XTBA declares that this equipment meets the requirements of the EMC Directive 89/366/EEC.