Smart Splitter 10iD
Product number:
01510 -
£365.00
---
Following the success of the Smart Splitter 4D and 5D/RDM we are pleased to announce that we now have in production the Smart Splitter 5iD and 10iD.
Both units housed in a compact D rail case for compact installations and offer outstanding features and user options.
Both units offer the following features:
Fully opto isolated from both the input and each output
Active loop through with override in the event of power loss
User selectable options:
• Hold the last frame on data loss.
• Fade to blackout in 5 seconds on data loss if backup or hold last not set.
• Clean up and slow up DMX data.
• Record and play back two backup memories.
• A remote switch input to allow for backup memory playback, with led.
• Remote backup disable – temporally turn off the backup to turn the desk off.
• Loop through output can be switched between input or backup/retransmit.
Both units are build using our proven splitter technology and will provide years of continuous and reliable operation – as do all our products.
Please note that due to the compact size, this unit is not RDM compatible.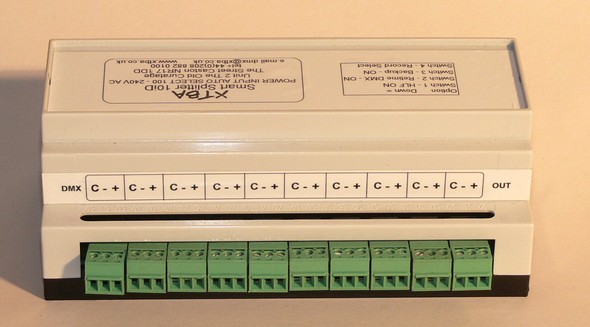 Works with
Voltage
120v AC (90v - 140v)
240v AC (190v - 250v)
Additional info:
120/230VAC or 9V to 48V DC dependant on unit type
Packaging & Dimensions
Length: 155

mm
Depth: 1

mm
Height: 1

mm
Weight: 2

Kg (Approx)

XTBA declares that this equipment meets the requirements of the EMC Directive 89/366/EEC.