Smart Merge 2:1 DIN RAIL
Product number:
02606 -
£495.00
---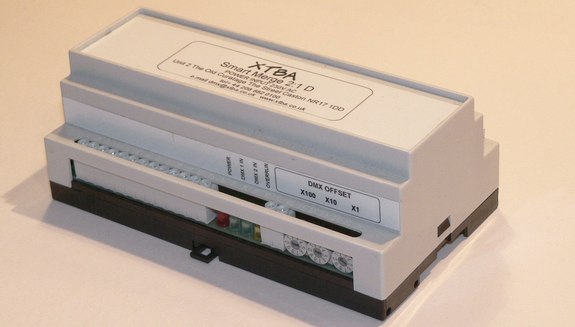 Smart Merge 2:1 DIN RAIL
Now available in DIN rail case format but offering the same features as the 19" rack versions - http://xtba.co.uk/products/smart-merge
XTBA's SMART MERGE is designed to take two DMX512 data streams and combine them into one complete DMX512 output.
This allows two DMX transmitting devices (e.g. lighting controls, scroll controllers, moving light controllers) to be effectively linked together; the resulting data stream fed to dimmers decoders, scrollers etc. on one data line.
UPDATE: Q1 2018:
XTBA Merges both in D case and 19" rack can now be set to HTP (highest takes precedent) or LTP (latest takes precedent) merging. In addition they can be switched to A/B Switch.
In A/B Switch any channel that changes on either input will output all channels of that input to the DMX output. In this case you can run a main control desk with a backup control on line but with all channels set to 0. The main desk will operate as normal passing levels through the merge. If the main desk fails then starting a fade on the backup desk will take control of all channels sent to the output.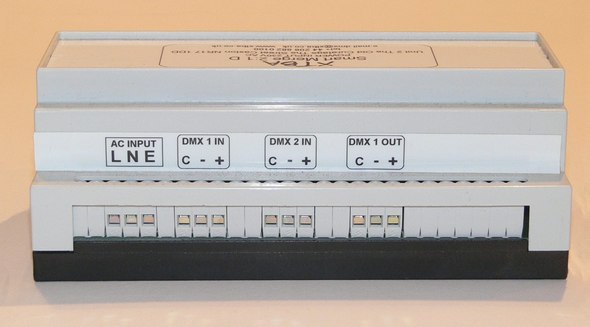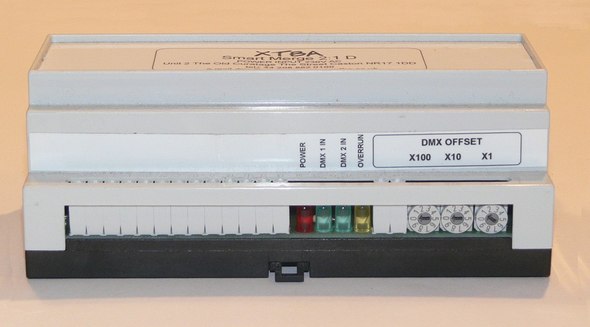 Works with
Packaging & Dimensions
Length: 105

mm
Depth: 1

mm
Height: 1

mm
Weight: 1

Kg (Approx)

XTBA declares that this equipment meets the requirements of the EMC Directive 89/366/EEC.