Output Module LM
Product number:
03704 -
£135.00
---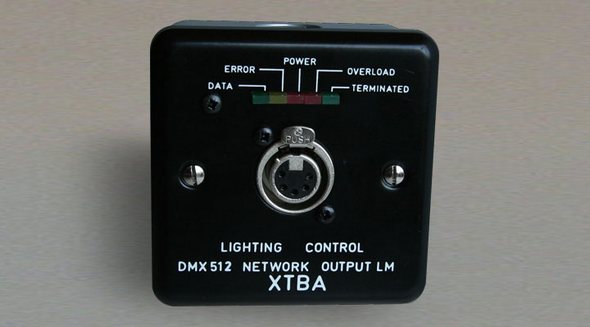 The Distribution Output Module LM adds line condition monitoring to the Distribution Output Module. The overall unit size remains unchanged.
Three additional monitoring LEDs display the state of the DMX line, with or without data, and indicate whether the output line is terminated correctly (green), there is a line error (yellow) or there is an overload (flashing red). Additionally, the data LED detects valid DMX data and will not light if the data is corrupt or not DMX.
All the displays, including the power LED, can be turned off and on from the lighting console by sending channel 510 to full - all others off for 15 seconds. This function can be over-ridden via an on board jumper link, allowing those Network Module displays in view of an audience to be turned off during performances.
Works with
Packaging & Dimensions
Length: 85

mm
Depth: 85

mm
Height: 45

mm
Weight: 1

Kg (Approx)
Please note:
Comes fitted into MK single surface box

XTBA declares that this equipment meets the requirements of the EMC Directive 89/366/EEC.