Double Output Module
Product number:
03703 -
£175.00
---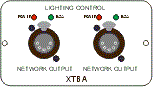 For dual independant output you need this double output module.
Our DMX Distribution Modules feature the following:
Fully optical isolated Distribution Module with separated isolated power supply for the output transmitter with display LEDs for Power and Data.
Industry standard protection for :
Over Voltage on the data lines
Static Discharge Protection on the Output
Rise Time Adjusted Outputs
Short Circuit Protection
XTBA Distribution Output Modules are the backbone of any DMX512 installation. They act as a one way DMX512 optically isolated splitter, and split off any DMX source or Distribution Branch.
Both the module input and the optical isolated output are buffered and short circuit protected: This means that should the DMX output be overloaded, the Distribution Module will prevent the main line from being pulled down, allowing the rest of the Distribution to work correctly. Once the overload is removed, the module will continue to work normally. As each Output Module is a new source of DMX, the Distribution Output Module will allow up to 32 receivers from each module, and will reshape DMX should the system involve long cable runs. The use of Distribution Modules removes the need for loop through links or return cables.
Works with
Packaging & Dimensions
Length: 140

mm
Depth: 85

mm
Height: 45

mm
Weight: 1

Kg (Approx)

XTBA declares that this equipment meets the requirements of the EMC Directive 89/366/EEC.