DMX Relay 2 - DIN Rail RDM
Product number:
10504 -
£195.00
---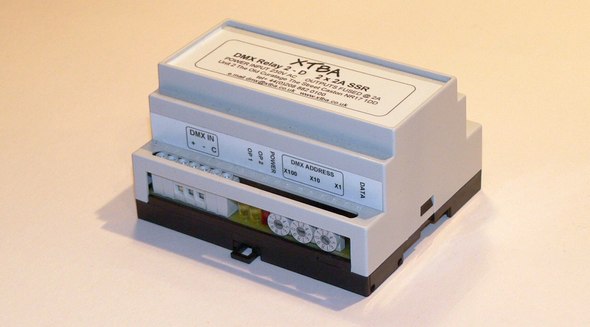 The Relay 2 DIN Rail SSR is a DMX to two x Solid State Relay (SSR) zero cross mains relays rated at 2A @ 230V and allows fast, noise free switching of mains voltage. The output is two 2A solid state relay closures with displays for data power and relay status. As the relays are solid state, high speed switching of the outputs can be reliably controlled. The outputs are internally fused for ease of installation. Mounted in a DIN Rail case for simple installation. the 2D provides noise and RF free switching to mains from DMX.
Ideal for interfacing to LED power supplies or any fixture that needs to be switched silently and quickly. RDM enabled
Works with
Packaging & Dimensions
Length: 105

mm
Depth: 1

mm
Height: 1

mm
Weight: 1

Kg (Approx)

XTBA declares that this equipment meets the requirements of the EMC Directive 89/366/EEC.