DMX AUDIT
Product number:
06103 -
£445.00
---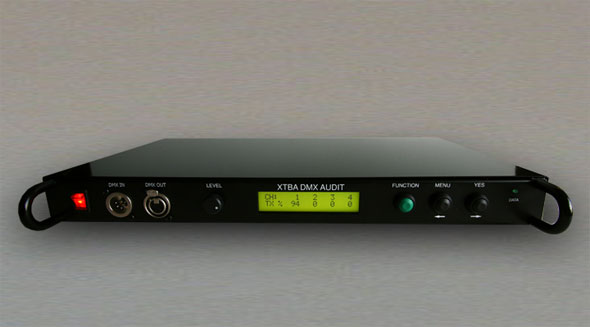 XTBA's DMX Audit provides a low cost 1U 19" rack mount DMX tester.
The Audit provides a comprehensive set of tools to make fault finding any DMX problem simple. The Audit can be placed any where in line with the DMX data and can then be used to view (in either decimal or percent) and control DMX via the display and the front panel controls. Channels to be viewed and controlled can be scrolled by use of the left / right buttons. Functions set and sub menus selected via the function and Yes key. By use of the merge and replace functions channels can be controlled locally allowing for fault finding without disrupting focussing or having to call channels from the main desk.
The Audit has numerous other useful features to make your life easier.. Here is a feature summary:
Receive Menu:
Receive - View the level of any four channels.
Receive and Merge - Merge the first channel on the screen with the level control and output the higher (htp merge)
Receive and Replace - Knock out the first channel on the screen and output with the level control value.
Find First - Find the first channel at any level - set from level control.
Transmit Menu:
Transmit Channel - Transmit any channel, controlled from the level control.
Autofade - Loop any channel from zero to full and back and keep looping.
Transmit Wave - Transmit a wave in any four consecutive channels.
Adjust All - Transmit all dimmers to level. This function is slow and controlled from the left/right keys not the level control, as sending all 512 dimmers to full in a hurry is a good way to become friends with the local electrical supplier.
Parameters Menu:
Display - break time, mark time, start code, number of dimmers, system ok.
If the Audit detects any error the 'system ok' will change to error. By pressing the right key the relevant error will be displayed so you don't have to remember what the DMX parameters should be.
Flicker Finder - Display an error if the received data is different from the Audit's memory. Useful for finding misbehaving control desks, bad cables etc.
User Options:
Display levels in decimal or percent, hold last frame or lose last frame on data loss, auto recover on data return or user input to return received data to output, store options to memory on power down.
Cable Test Menu:
Test pins 1 through 3 or test pins 1 through 5. Tests continuity for crossed pins, shorts and also tests using live data to find out of specification cables.
Works with
Voltage
120v AC (90v - 140v)
240v AC (190v - 250v)
Additional info:
120V Operation is Internally Selectable
Packaging & Dimensions
Length: 430

mm
Depth: 270

mm
Height: 44

mm
Weight: 4

Kg (Approx)

XTBA declares that this equipment meets the requirements of the EMC Directive 89/366/EEC.